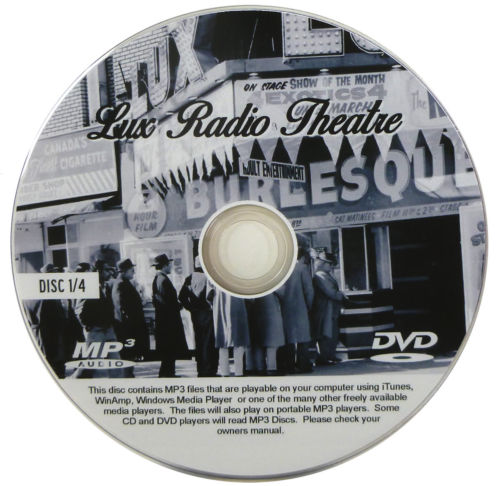 Lux Radio Theatre Show - OTR - Old Radio - ENTIRE COLLECTION ON 4 MP3 DVDs
Brand New
About The Program
Lux Radio Theatre on 4 MP3 DVDs
Lux Radio Theatre, sometimes spelled Lux Radio Theater, a classic radio anthology series, was broadcast on the NBC Blue Network (1934–35) (owned by the National Broadcasting Company, later predecessor of American Broadcasting Company [ABC] in 1943 /1945); CBS Radio network (Columbia Broadcasting System) (1935-54), and NBC Radio (1954–55). Initially, the series adapted Broadwayplays[1] during its first two seasons before it began adapting films. These hour-long radio programs were performed live before studio audiences. The series became the most popular dramatic anthology series on radio, broadcast for more than 20 years and continued on television as the Lux Video Theatre through most of the 1950s. The primary sponsor of the show was Unilever through its Lux Soap brand.
Broadcasting from New York, the series premiered at 2:30 p.m., October 14, 1934, on the NBC Blue Network with a production of Seventh Heaven starring Miriam Hopkins and John Boles in a full-hour adaptation of the 1922–24 Broadway production by Austin Strong. The host was the show's fictional producer, Douglass Garrick (portrayed by John Anthony). Doris Dagmar played another fictional character, Peggy Winthrop, who delivered the Lux commercials. Each show featured a scripted session with Garrick talking to the lead actors. Anthony appeared as Garrick from the premiere 1934 episode until June 30, 1935. Garrick was portrayed by Albert Hayes from July 29, 1935, to May 25, 1936, when the show moved to the West Coast.[2] 
Famed studio executive and film producer / director Cecil B. DeMille, (1881-1959), took over as the host on June 1, 1936, continuing until January 22, 1945. That initial episode with DeMille featured stars Marlene Dietrich and Clark Gable in The Legionnaire and the Lady.[1] On several occasions, usually when he was out of town, he was temporarily replaced by various celebrities, including Leslie Howardand Edward Arnold.
Lux Radio Theatre strove to feature as many of the original stars of the original stage and film productions as possible, usually paying them $5,000 an appearance. In 1936, when sponsor manufacturer Lever Brothers (who made Lux brand soap and detergent) moved the show from New York City to Hollywood, the program began to emphasize adaptations of films rather than plays. The first Lux film adaptation was The Legionnaire and the Lady, with Marlene Dietrich and Clark Gable, based on the film Morocco. That was followed by a Lux adaptation of The Thin Man, featuring the movie's actual stars, Myrna Loy and William Powell.
- Wikipedia.
How We Are Different
We appreciate that you can buy the old radio programming you love so much from many other sources and we very much appreciate your interest in our listing. Here's how we might be different from the other offerings you have to choose from:
BUY THREE GET ONE FREE! - Buy any three of our items and you'll receive a fourth, of equal or lesser value of the MOST EXPENSIVE ITEM, FREE. Just place four items in your cart and Ebay will adjust the prices to adjust for your free item. Only audio and video items are eligible for this offer. Individual discs or sets, buy it now or auction based, it doesn't matter! For auctions, use the auction price plus shipping to determine the value of the item you can receive for free.
30 DAY MONEY BACK GUARANTEE - If you aren't happy with the product for any reason, send it back and we will replace it or give you your money back. It's that simple. We aren't afraid you are ripping us off by making a copy and then getting a refund. Do you have the time for that?
Proper ID3 tags - What does this mean? When you are listening to your music on your mp3 or computer do you ever wonder how it knows what it is and displays it on the screen? ID3 Tags. We make sure the ID3 tags are correct and descriptive so you know which episode you are listening to. It just doesn't say "SHOWNAME" as do the audio files from many other providers.
Premium Blank Media - We use production quality CD and DVD media to make sure it plays in all devices and lasts forever.
Printed On-Disc Labels - Many providers use stick-on labels on their discs. Eventually they come off, often while in the player, throwing bits of paper inside your player which can permanently damage your device. Our labels are permanently etched into the backside of the disc.
FAST SHIPPING - We ship every day, 7 days a week. All items ship within 24 hours of being paid for. Check out our feedback, people rave about how quick our shipping is.
Playing The Audio
The audio is delivered in the most common audio format, MP3. Virtually any audio player for your computer whether you are on a PC (Windows Media Player, iTunes) or MAC (iTunes) will play this format. Many newer CD players for the home are car will ALSO play this disc, right out of the package. MP3 is a format that will store a large amount of audio in a fraction of the disc space of an original CD. That's the secret of storing dozen of hours of audio on on CD or hundreds of hours on a DVD full of MP3 files.
You can also create standard (CD-A) audio discs from these MP3 files using the application of your choice. A popular and free option is iTunes.
Important Info About Our Recordings
The items we sell are not commercially produced. They will not come with jewel cases or DVD boxes with the inserts and art work. Because the content we sell is in the Public Domain*, we produce these CD's and DVD's ourselves. All media will be delivered in a Tyvek sleeve to protect the media from damage but do not expect a plastic jewel case or dvd shelf case unless otherwise noted in the description.
Because the audio of these programs are between 30 and 90 years old, understand that while we are using the highest quality versions we can find, It still will sound like a 30-90 year old program ;)
* According to the Library of Congress, radio programs that were produced between 1929 and 1968 fall under Public Domain and do not have copyright protection as modern recordings do. Radio shows created before January 1, 1978 are protected by the Copyright Act of 1909 (US Government Copyright Office) Case law that is any copyright determination must be made according to the copyright law as it existed before that date. Since old radio shows were in the public domain from the Copyright Act of 1909, the update of 1976 could not retroactively place them under copyright because they were already in the public domain and status of public domain work can not be reversed.
Payment / Shipping / Terms
We accept payment via Paypal only. Payment must be received within 7 days of purchase or auction close unless the item is a "Buy It Now" which immediate payment is required. We process orders 7 days a week and ship all items within 24 hours of payment being received and cleared. If you pay via Paypal eCheck, please note that these payments can take up to 7 days to clear at which point your item will ship immediately.
USPS First Class is a very reliable service and your item should arrive within 5 business days of shipping but usually much less. If your item arrives damaged or defective, please contact us immediately and we will get another shipped out immediately. If you item fails within 30 days of receiving it, please contact us for a replacement.
Domestic Shipping: We ship via USPS First Class Mail.
International Shipping: We ship via USPS First Class International. While you might receive a customs code, tracking is not available for this method of shipping. Import duties, taxes, and charges are NOT included in the item price or shipping charges. These charges are the buyer's responsibility. Please check with your country's customs office to determine what these additional costs will be prior to bidding / buying.We will NOT mark items as "gifts" or undervalue the items on custom forms as it is against government regulations to do so.
Satisfaction
We've been selling on E-Bay (and online in general) for over 10 years and very much value our 100% feedback rating. After your transaction you will have the option to leave feedback. If for ANY REASON you can not give us a 100% rating, let us know immediately. Our high rating allows us to sell items to you at a lower price because Ebay grants high rated sellers discounts. Bottom line - if it's not right, let us make it right.