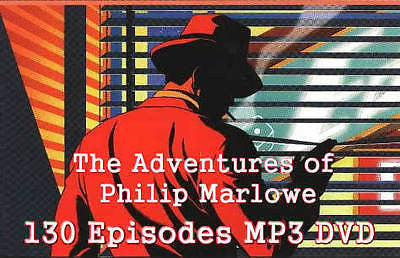 Philip Marlowe
FORMAT: (1) MP3 DVD / (4) MP3 CDS
Philip Marlowe is a fictional character created by Raymond Chandler in a series of novels including The Big Sleep and The Long Goodbye. Marlowe first appeared under that name in The Big Sleep published in 1939. Chandler's early short stories, published in pulp magazines like Black Mask and Dime Detective, featured similar characters with names like "Carmady" and "John Dalmas". Some of those short stories were later combined and expanded into novels featuring Marlowe, a process Chandler called "cannibalizing". When the non-cannibalized stories were republished years later in the short story collection The Simple Art of Murder, Chandler changed the names of the protagonists to Philip Marlowe. His first two stories, "Blackmailers Don't Shoot" and "Smart-Aleck Kill" with a detective named Mallory were never altered in print but did join the others as Marlowe cases for the television series Philip Marlowe, Private Eye.

Philip Marlowe's character is foremost within the genre of hardboiled crime fiction that originated in the 1920s, notably in Black Mask magazine, in which Dashiell Hammett's The Continental Op and Sam Spade first appeared.

Underneath the wisecracking, hard drinking, tough private eye, Marlowe is quietly contemplative and philosophical and enjoys chess and poetry. While he is not afraid to risk physical harm, he does not dish out violence merely to settle scores. Morally upright, he is not fooled by the genre's usual femmes fatales, such as Carmen Sternwood in The Big Sleep. Chandler's treatment of the detective novel exhibits an effort to develop the form. His first full length book, The Big Sleep, was published when Chandler was 51; his last, Playback at 70. Seven novels were produced in the last two decades of his life, with an eighth being posthumously completed by Robert B. Parker and published years later.

This collection includes two different versions of "The Big Sleep", "The Little Sister", "The High Window" &"The Long Goodbye". The Chandler Collections versions are newer.
Episode List
A Coat, a Hat and a Gun
Classic Chandler: Farewell My Lovely
Classic Chandler: Playback
Classic Chandler: Poodle Springs
Classic Chandler: The Big Sleep
Classic Chandler: The High Window
Classic Chandler: The Lady In The Lake
Classic Chandler: The Little Sister
Classic Chandler: The Long Goodbye
Cloak of Kamehameha
Cloak of Kamehameha
Down the Mean Streets with Philip Marlow
Dude from Manhattan
Face to Forget
Feminine Touch
Friend from Detroit
Golden Cobra
Good Neighbor Policy
Grim Hunters
Heir for G-String
Heir for G-String (rehearsal)
King in Yellow
Lady in Mink
Life Can Be Murder
Murder My Sweet
Murder My Sweet (Hollywood Star)
Name to Remember
Nether Nether Land
Nether Nether Land (rehearsal)
Night Tide
Rushton Hickory
Sound and the Unsound
Strangers on a Film
The Angry Eagle
The Anniversary Gift
The August Lion
The Baton Sinister
The Bedside Manners
The Bid for Freedom
The Big Book
The Big Sleep 1
The Big Sleep 2
The Big Sleep 3
The Big Step
The Birds on the Wing
The Black Halo
The Bum's Rush
The Busy Body
The Collector's Item
The Covered Bridge
The Dancing Hands
The Dark Tunnel
The Dear, Dead Days
The Deep Shadow
The Eager Witness
The Easy Mark
The Ebony Link
The Fatted Calf
The Fifth Mask
The Final Payment
The Fine Italian Hand
The Fox's Tail
The Girl from Pitchfork Corners
The Glass Donkey
The Green Flame
The Green Witch
The Grim Echo
The Hairpin Turn
The Hard Way Out
The Headless Peacock
The Heart of Gold
The Heat Wave
The Hiding Place
The High Collared Cape
The High Window 1
The High Window 2
The House That Jacqueline Built
The Indian Giver
The Iron Coffin
The Key Man
The Khandi Tooth
The Kid on the Corner
The Ladies Night
The Lady Killer
The Last Laugh
The Last Wish
The Little Sister 1
The Little Sister 2
The Little Sister 3
The Little Wishbone
The Lonesome Reunion
The Long Arm
The Long Goodbye 1
The Long Goodbye 2
The Long Goodbye 3
The Long Rope
The Long Way Home
The Man on the Roof
The Medium Was Rare
The Mexican Boat Ride
The Monkey's Uncle
The Old Acquaintance
The Open Window
The Orange Dog
The Panama Hat
The Parrot's Bed
The Pelican's Roost
The Persian Slippers
The Pigeons Blood
The Promise to Pay
The Quiet Magpie
The Red Wind
The Red Wind
The Restless Day
The Sea Horse Jockey
The Seaside Sabbatical
The Smokeout
The Soft Spot
The Strangle Hold
The Sword of Cebu
The Tail of the Mermaid
The Torch Carriers
The Uneasy Head
The Unfair Lady
The Vital Statistic
The White Carnation
Trouble Is My Business
Where There's a Will
Who Shot Waldo
Young Man's Fancy